Easily switch modes
FlexZone™ with a upgraded Smart Divider & lock
Store different foods and drinks at an optimal temperature, so items stay fresh and tasty. The FlexZone™ has four settings that are ideal for preserving meat and fish, storing deli foods, chilling wine or cooling beverages. A Smart Divider can be locked in place to organize items efficiently.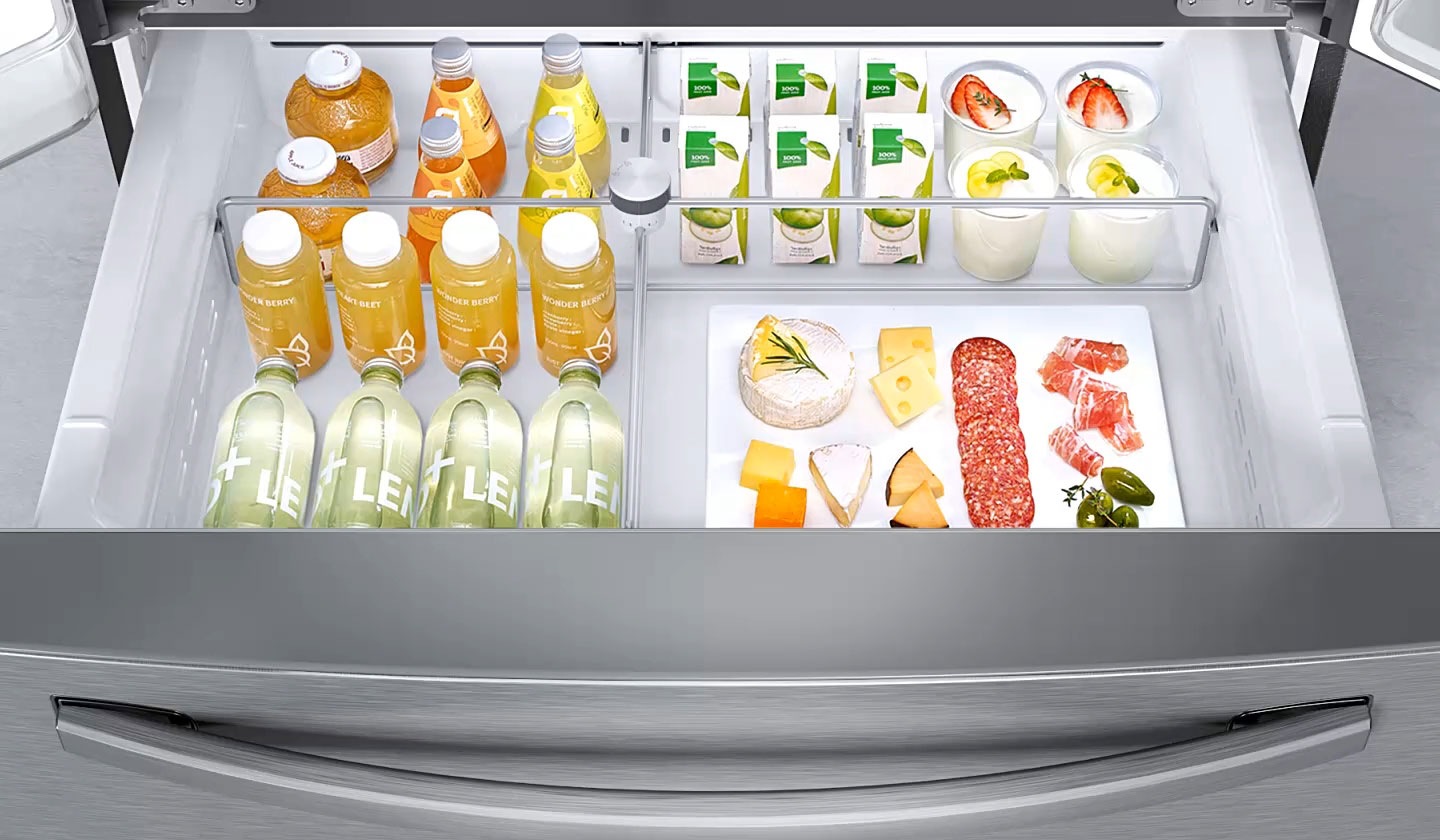 Moist, fresh natural tasting food
Twin Cooling Plus
Ensure your food stays more moist and fresh for longer*. Twin Cooling Plus™ optimizes the temperature and humidity in the fridge and freezer with independent cooling systems. It preserves food in the optimal conditions and protects its original flavor and aroma by preventing odors from mixing.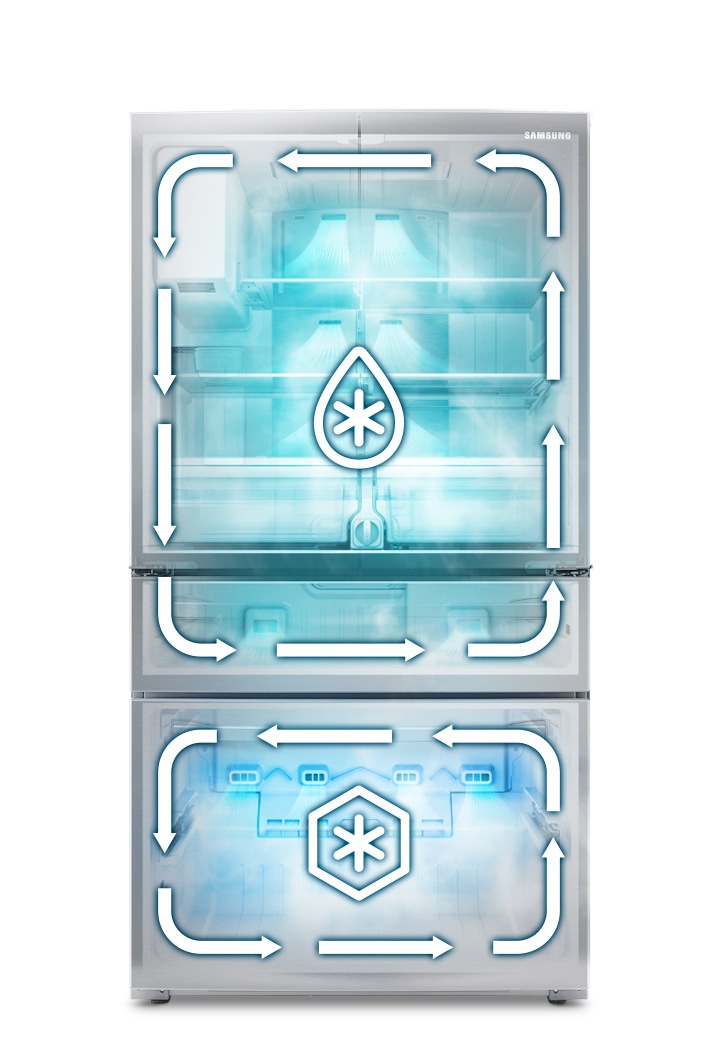 * Based on independent testing by Intertek compared with a conventional cooling system.
Sleek, minimal doors for a modern look
Modern Look Design
Enjoy a sleek and simple design. The Sleek Edge Doors have a sophisticated and timeless style that is accentuated by a minimalist ice and water dispenser and New Edge Handles. These elements blend seamlessly and harmoniously with any kitchen interior.
Fingerprint resistant finish
Smudge proof
Helps reduce smudges for an everyday great appearance.
Make more ice much faster
Ice Max
The Ice Max produces up to 10 lbs of ice a day and store up to 4.2 lbs of ice at a time, so you should always be good to go! And its slim and compact design means it takes up less space, so there is more room to store food
* Based on internal testing compared with conventional Samsung models. Samsung RF28R7201: ice storage up to 4.2 lbs at a time/ ice making capacity up to 10 lbs a day.
Instant cool & naturally flavored water
Auto Fill Pitcher
Enjoy refreshingly cold water immediately, without waiting for it to be chilled. The Autofill Pitcher* is automatically filled with purified water when you place it inside the fridge. With the infuser option, you can also add fruits or herbs to create deliciously flavored beverages.
Open the drawers much more easily
EZ-Open™ Handles
Open the mid and freezer drawers with a gentle pull using the EZ-OpenTM Handles. Simply lift up the handle and it breaks the door's vacuum seal. The drawer will glide open without having to pull hard, ideal for children or the elderly. But the latch keeps the door securely shut.
Easily store and reach food and drinks
Food Showcase with Metal Cooling Door
Find your favorite foods, drinks and condiments quickly. The Food ShowCase with Metal Cooling* is a "fridge within a fridge" with an innovative two-door system for faster access. A Metal Cooling panel locks in the cold to maintain a consistent temperature, which keeps food fresher.
Be free to focus on what matters most
Bixby
Bixby enabled smart technology helps you control your refrigerator anytime, anywhere. With the embedded Wi-Fi, You can easily check the temperature, get alerts if the door is left open and even read or write memos using a smartphone App*. It will also detect and help you diagnose issues.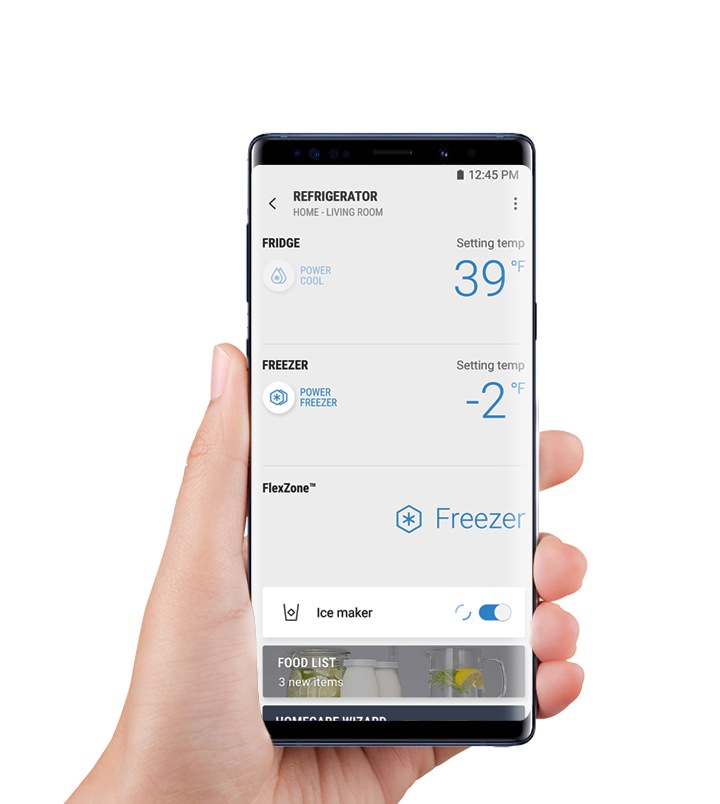 * Available on Android and iOS devices. A Wi-Fi connection is required.